about Rick Miller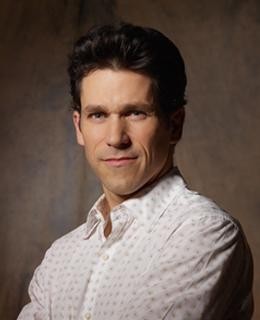 RICK MILLER is a Dora and Gemini award-winning writer/performer/director based in Toronto, Canada. He trained in Montreal as an architect, actor, musician, playwright and visual artist, and has performed in five languages on five continents. For 3 years, Rick hosted ABC's hit primetime series Just for Laughs, and Entertainment Weekly has called him "one of the 100 most creative people alive today". As artistic producer of WYRD Productions, an internationally-acclaimed company devoted to multi-disciplinary theatre, he has created and performed shows such as Art?, Slightly Bent, Into the Ring (co-created with Dawson Nichols), and the worldwide hit MacHomer. Two recent WYRD Productions have been co-creations with director Daniel Brooks and Necessary Angel Theatre Company: Bigger Than Jesus and HARDSELL, which Rick recently reworked as HARDSELL 2.0. He is also a frequent collaborator with renowned director Robert Lepage, having worked on such plays as La Géométrie des Miracles, Zulu Time (co-created with Peter Gabriel), on the film Possible Worlds, and on the 9-hour play Lipsynch. Rick recently taught an interdisciplinary class at U of T called The Architecture of Creativity and co-starred in the Canadian premiere of Venus in Fur (CanStage). He is also developing various projects in partnership with KDOONS: a solo documentary play called BOOM and a reimagining of Twenty Thousand Leagues Under The Sea, all of which involve educational, environmental and youth-empowerment initiatives. Rick lives in Toronto with his wife Stephanie Baptist and their 2 daughters. Here are some of the projects Rick and WYRD are touring and/or developing:

BOOM: Part explosive performance, part riveting documentary and part nostalgia trip, this solo show features Miller in a tour-de-force performance that captures and recreates the defining moments of the baby boom era (1945-67). The play premiered in Jan 2014 in Calgary at the High Performance Rodeo (presented by Theatre Calgary), and touring will begin in 2015, kicking off with a run with Mirvish Productions in Toronto. BOOM is part of a larger transmedia project that aims to bring history to the next generation of Canadians.
Twenty Thousand Leagues Under the Sea: Jules Verne's classic adventure is being re-imagined for the 21st Century. Miller and Craig Francis will lead a collective of talented multi-disciplinary artists from across Canada and around the world in the creation of an amazing piece of multimedia theatre. As with BOOM, the play is only one component of a larger network of transmedia properties each with a focus on empowering youth to act on water issues. It was commissioned by and will premiere at the Toronto 2015 PanAm/Parapan Am Games, and an international tour will follow.
MONEY: A multi-disciplinary ensemble piece exploring the concept of money. Drawing from his many collective collaborations with Robert Lepage, Miller will lead a multi-talented cast of writer/performers to create an original play themed on money: what it is, what we do for it and what it does to us. Development will continue into 2014 and 2015.

Past tours:

Rick is one of Canada's most respected multi-disciplinary performers, with credits ranging from classical theatre to the avant-garde, from musicals to live comedy, from voice work to film & television. He has been called "one of Canada's most dazzling performers" (Toronto Star), and the "most virtuosic voice in the country" (Edmonton Journal). He recently starred as Brian Mulroney in the satirical film Mulroney: The Opera and hosted a TV doc series called Canadian Made. Rick's many voices can be heard in hit cartoons such as George Of The Jungle (Tiger), My Big Big Friend (Bongo), Skatoony (Hedley-Diddly-Dee), Atomic Betty (Sparky), and Magi-Nation (Orwin, Freep, Ashio). He lives in Toronto with his wife Stephanie Baptist and their 2 daughters.

Downloads